Lana Stojićević, Any Place in Any Town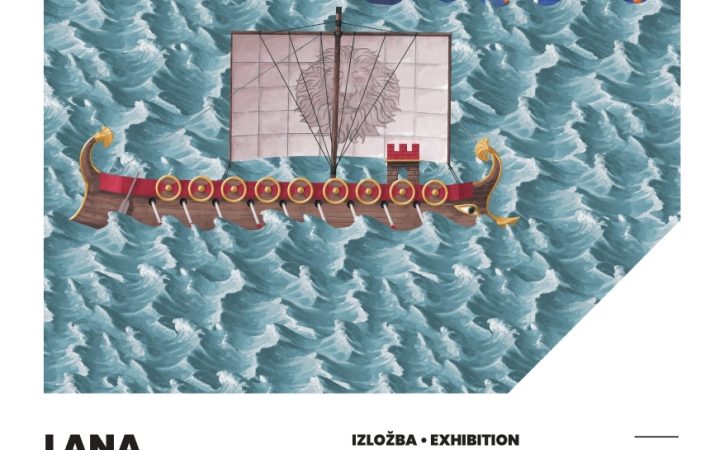 LANA STOJIĆEVIĆ
ANY PLACE IN ANY TOWN
Curator: Vedran Perkov
Openinig of the exhibition: Sunday 26th of May 2019 at 8 pm
Jelsa Municipal Museum – Kravata Gallery
Exhibition runs through 13th of June 2019
—
First of all, in order for us to understand this exhibition, we need to start with its title. Any Place in Any Town is the name of a theatrical backdrop in the Hvar Theatre. It is a wall painting that used to serve as universal scenography. It is a veduta of an undefined coastal city — a scene that was not changed for each show due to limited technical capabilities, but remained as it was regardless of the plot or action. Hence, we can say that it depicts an ideal city.
That wall painting served as an inspiration first, and later as scenography for the works prepared for this exhibition. However, apart from scenography, a show would need a plot as well, which Lana found and connected to the Island of Hvar. From Grapčeva Cave – mythological place in which fight between the Cyclops and Odysseus took place, over the legend of Queen Teuta and her treasure, all the way to Dimitrija Demeter's romantic tragedy Teuta in which Hvar was staged as a place of historic battles between Illyrians and Romans. Hystorically distant and non-related stories are united in a spectacle that has no end and no beginning. Spectacle that is a purpose for itself, we might think. And yet, it is not so. (…)
Vedran Perkov
Lana Stojićević (Šibenik, 1989) is a visual artist, who most frequently creates in art forms of photography, textile and architectural models. Her multimedia works critically explore various local topics, such as illegal construction, lack of care for (architectural) heritage and ecosystem pollution.She earned her master's degree in visual arts in 2012 at the Academy of Visual Arts in Split.
Many group and solo exhibitions of Lana Stojićević resulted in a number of received awards. She won Metro Imaging Mentorship Award at the exhibition New East Photo Prize (Calvert 22 Foundation, London, 2016), annual Young Artist Prize given by the Croatian Association of Artists (2015), second-place award at the exhibition Young Contemporary Photography: Different Worlds (Gallery Photon, Ljubljana, 2015), Erste Grand Prix at the exhibition Erste Fragments (2015), Rector's and Dean's Award (2012) and the first purchase prize at the Art Colony Rovinj, given by the Rovinj Heritage Museum (2011). She was nominated for the New East Photo Prize (2016 and 2018), HT Award (Museum of Contemporary Art, Zagreb, 2013, 2016, 2017 and 2019), and Radoslav Putar Award (Institute of Contemporary Art, 2015).
She lives and works in Split.