SREĆKO PLANINIĆ – VERTICAL STREAM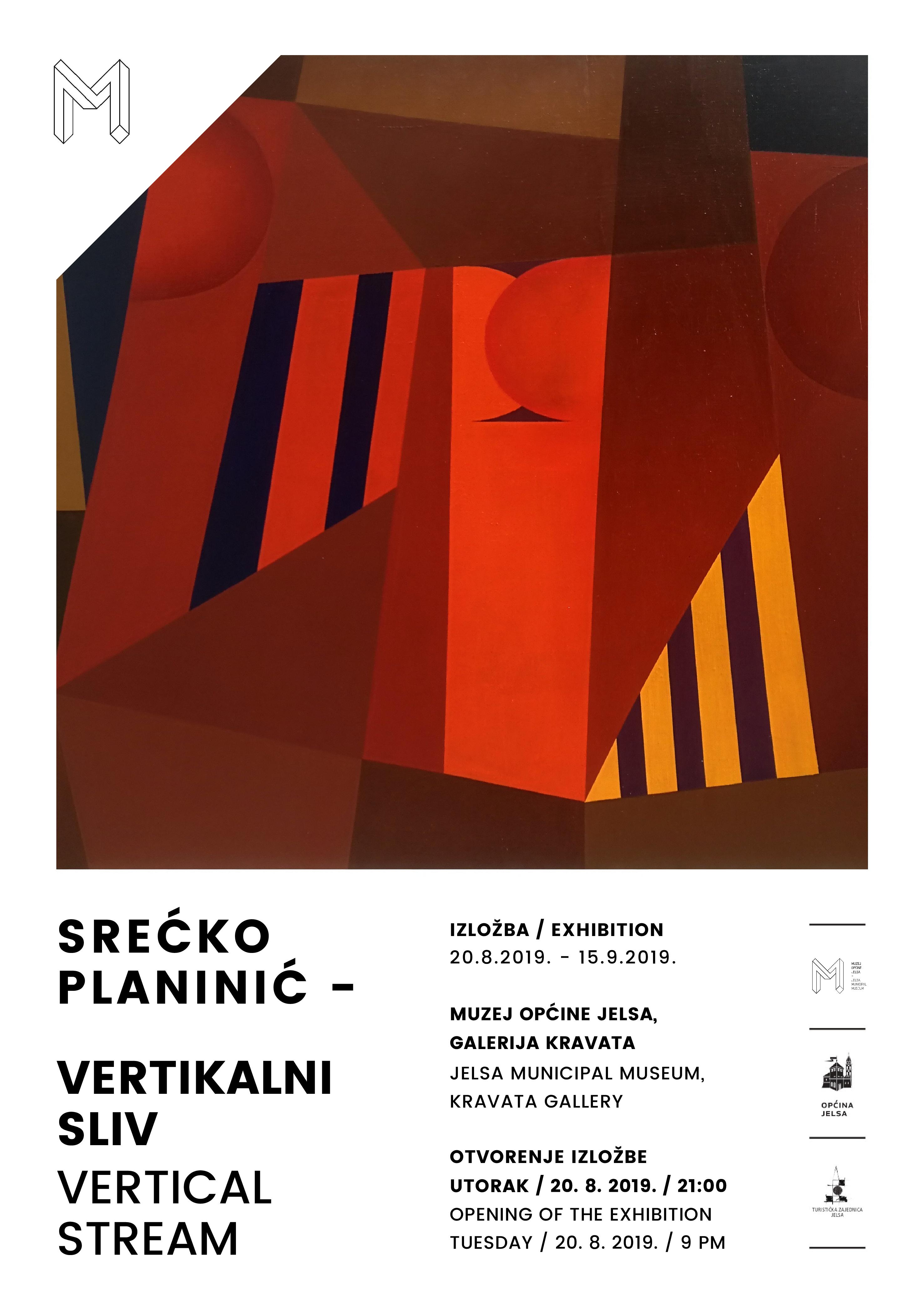 SREĆKO PLANINIĆ – VERTICAL STREAM
exhibition opening / Tuesday 20. August 2019. at 9 pm
Kravata gallery / Jelsa Municipal Museum
Exhibition curator: Jasenka Splivalo
Duration: 20. 8. – 15. 9. 2019.
Srećko Planinić – Vertical stream: small retrospective 1968–2019
COLLABORATIVE COUNTERPOINT IN SREĆKO PLANINIĆ'S VERTICAL BASIN
vertical : descending lyrical : geometric
The frame ostensibly limits the infiniteness while the thought extends beyond the confines of the
painting. Timeless tubes like comets pierce the organic parts, historically recognizable stories,
connecting them with the contemporary, eternal even. The enigma of the Beginning challenges the
author who resolves it by identifying with the passage of time. There is no conflict on the painting
surface which sometimes in the manner of comic book panels spreads out the story of lyrical and
geometric collaboration.
The author, Srećko Planinić, excites the eye of the beholder and discovers within the organic, the
purity of geometrical, opposing them in the almost tactile collaboration on the two-dimensional
surface.
SREĆKO PLANINIĆ
1939 born in Mostar
1959 studied painting at the Academy of Fine Arts in Zagreb; graduated in the class of professor
Marino Tartaglia
1965–1968 postgraduate study in the master workshop of professor Krsto Hegedušić
New tendencies resulted in creating an idea of lyrical geometric abstraction. Planinić explores then-
current development of the abstract art by joining the lyrical with the geometric.
1971 Planinić is made the president of the Association of Visual Artists, which during his mandate
became the Croatian Association of Visual Artists
The artist and his colleagues initiate and are engaged in the foundation of the Karas Gallery. For
many years he also managed the Tax Administration Gallery which systematically followed the
current art scene.
Planinić has exhibited in numerous group and solo exhibitions and has received a number of awards
and honors.
He lives and works in Zagreb, and during the summer, he resides in Jelsa on the island of Hvar.
The exhibition was staged with the support of the Municipality of Jelsa and Jelsa Tourist Board